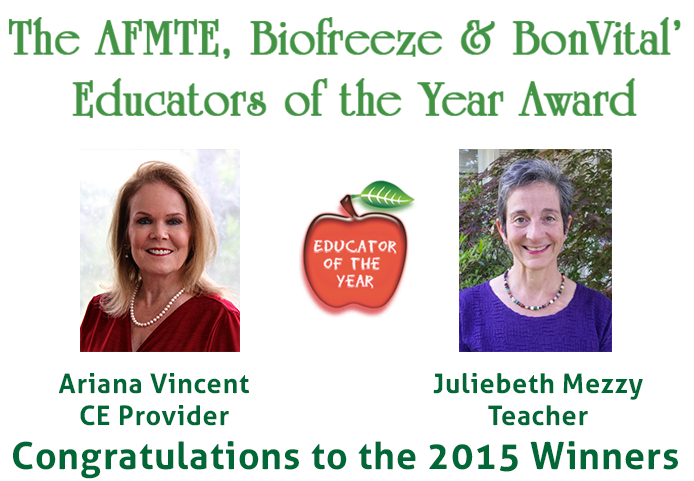 The Ariana Institute for Wellness Education is pleased to announce that Ariana Vincent is The Alliance for Massage Therapy Education 2015 Continuing Education Provider of the Year, recognizing her excellence in massage and bodywork education.
The Alliance for Massage Therapy Education, www.afmte.org, is a non-profit organization established to serve as an independent voice, advocate and resource for the entire education sector – from entry-level massage training programs through post-graduate studies. The Alliance brings schools, teachers, continuing education providers, and allied industry partners together under one roof in improving massage education as well as ongoing efforts to have massage therapy better recognized by and integrated into the health care treatment system.
This AFMTE award honors excellence in massage and bodywork education and serves to foster a culture that supports raising the standards of excellence in massage and bodywork education. The award recipients are chosen from a pool of high caliber professionals based on their experience, teacher training taken, and how well they meet the core competency standards that form the foundations for effective successful teaching.
Ariana Vincent, CEO and founder of The Ariana Institute for Wellness Education, is an NCBTMB Approved Provider of Continuing Education and nationally known Massage Therapy Instructor, who weaves a variety of skills into her continuing education classes. She has been a massage therapy instructor for over 16 years and a licensed massage therapist for over 33 years. Ariana has also been recognized as a 2013 World Massage Festival Massage Therapy Hall of Fame Honoree. She is the author of the eight massage therapy manuals available on Amazon in addition to 33 high-quality online and hands-on continuing education courses offered by the Ariana Institute.
In her appreciation for this award and AFMTE's mission, Ariana had this to say:
"It is an honor to be recognized by my peers for my work as an educator. Receiving this award is significant in the evolution my teaching career and I am honored to be recognized by my peers in a profession that has already awarded me with so many wonderful experiences from simply being a part of the massage community. Such an award is a fitting compliment to the validation that I have received throughout the years of working with my students and the continual support I receive from the massage community at large. I am grateful for the AFMTE for supporting me with this award, and supporting excellence in the education of the massage therapy community.
As the needs of our community and students continue to change, so the standards of teaching must continue to elevate to meet them in order to keep up with the continually evolving expectations of massage therapy. Students can be willing to learn, but they can only reflect the quality of education that they are given. It is our duty as educators to provide our students with the highest standard of education if we are to see that same standard reflected in our students."
Please join Ariana Vincent and AFMTE at the AFMTE 2015 Educational Congress in Minneapolis, July 22 – 26, to hear from Ariana as she shares how she demonstrates her commitment to excellence in education.